Massage Therapy in Lower Sackville
Are you looking for a relaxing experience that can improve your function?
Massage therapy is the manual manipulation of the soft tissues of the body with the aim of achieving a therapeutic response. The benefits of massage include enhancing the function of your muscles and joints, improving circulation of the blood and lymph nodes and relieving pain and stress. Massage may even reduce blood pressure!
Healing for All Ages
Massage therapy is suitable for nearly everyone, except those with a condition that contraindicates massage. Our massage programs are designed to help you rehabilitate and maintain your health through massage therapy techniques. It is appropriate for all ages, from infants to the elderly and can be great for athletes. If you bring your infant or child in to see us, we can even teach you how to work on them at home. Both mild and acute conditions can benefit from massage.
Getting Started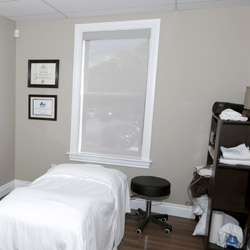 When you first arrive, we will ask you to fill out a case history form to find out more about your general health. We can work with your other practitioners such as your chiropractor, osteopath, acupuncturist or medical doctor. We will assess your condition to determine the best approach to helping you. The techniques we use include :
Deep tissue Massage
Craniosacral Therapy
Pregnancy Massage
Lymphatic Drainage
Myofascial Release
Swedish Massage
Trigger Point Therapy
Our massage therapists will develop a treatment plan that shows the appropriate frequency and duration of your massages, depending on the severity of your problem.
Trained to Help You
Our massage therapists are members of the Massage Therapy Association of Nova Scotia. They have completed over 2200 hours of training and are taught to treat 70 different conditions with medical massage therapy.
If we feel that you could benefit from the help of the other practitioners at our location, we will refer you to them. Chiropractors, an acupuncturist and an osteopath are all available for your benefit. We will do whatever is required to help you get well and function better, moving freely without pain!
Pricing Information
Different options are available for you to choose from. After your first appointment, our massage therapists can make recommendations as to whether another duration of massage is appropriate for you.
$65 for a 30-minute massage
$80 for a 45-minute massage
$95 for a one-hour massage
Let us help you feel great again, functioning at your highest ability. Call our office today to schedule your massage appointment!
---
Meet Our Massage Team
Gloria Bennett, RMT
I graduated from Sutherland-Chan School and Teaching Clinic in Toronto, Ontario in 1997 and have been in practice as a massage therapist here in Nova Scotia since. I have taken continuing education courses in Myofascial Release, Cranio Sacral Therapy l & ll, Muscle Energy Techniques and Deep Tissue Therapy.
Trained in understanding, assessing and treating over 70 conditions, I enjoy the challenges of treating orthopaedic and systemic conditions and believe that skilled and compassionate touch can greatly improve people's lives.
I empower my clients through educating and encouraging them to be proactive in their health and lifestyle.
---
Amy Easton, RMT
After two years at Memorial University, I found myself lost in courses I was not enjoying. After a close friend (who had been the recipient of many of my massages) suggested I do massage, I decided to pack up, and moved here to pursue my calling.
Since graduating from the Canadian College of Massage and Hydrotherapy in June 2010, I have found working with people on a number of different conditions extremely rewarding. I strive to help everyone I can, and in doing so, I have taken, and will continue to take, additional courses to improve my knowledge and skills on massage techniques and the many different treatable conditions. I want only to give my clients the most beneficial care possible.
Thus far, in addition to my massage diploma, I have received a certificate from CCMH for accomplishing 50 hours of pregnancy outreach clinic. I have received a certificate in doula / labour support provider, along with a cupping certificate.
I not only plan on providing my clients with the treatment they need but also the education they need to better understand. Knowledge is the key to any healthy life style!!
To schedule an appointment for massage therapy, call our Lower Sackville clinic today.
 Back To Health Chiropractic | (902) 865-8500